Proud to be a Project Vehicle Sponsor!
QuietRide Solutions is proud to be one of the many product sponsors for the vehicle builds you see below. These builders have spent hundreds of hours in the construction and reconstruction, fit and finish of these vehicles. These are just some of the examples of automotive creativity and ingenuity you will find at the SEMA Show. For more than 10 years, QuietRide has made its projects available to the best of the SEMA builders. Their SEMA location is available in their info so come and check them out on November 5th through 8th.
1963 Thunderbird, aka "Tiki Bird" combines an eye catching "Beach" theme concept with Pro-Touring performance and subtle restomod aesthetics giving this classic a clean "old school/new school" modern look. Tiki Bird is a "work in progress" and you will see first-hand the QuietRide AcooustiShield Thermal Acoustic Insulation product throughout the interior. SCAT seats make a comfortable ride to the notes from the Rockford Fosgate Sound System. Tiki Bird is powered by a Ford Aluminator 5.0 with a Vortech V7-YSI supercharger making 1000 horsepower; exhaust goes through a custom fabricated Magnaflow Polished Stainless steel exhaust system. The Pro-Touring front and rear suspensions feature an adjustable weight transfer cantilever system designed exclusively by Needfulthingz Custom Fabrication and Speed Shop. The front suspension includes revised front end geometry and Energy Suspension Bushings, Slam Specialty bags and valve manifold with AccuAir Ride Control and with Air Zenith dual compressors. The rear suspension is a custom fabricated upside down triangulated 4-link. Aldan American Shocks hold the Wilwood brakes and 20 X 8 Intro wheels wrapped with Mikey Thompson 29 x 15 " SR Sportsman radials. The body modifications include suicide doors and relocated Frenched door handles to go with the redesigned front and rear fenders and Frenched taillights. The trunk and door panels have been redesigned and bead rolled. The custom designed 4-point roll cage gives you a hint of what Tiki Bird can do on the fly.
This 1963 Volvo Amazon was built and modified by Jeff Allen from CNBC's "The Car Chasers." It features Grand Sport Corvette DNA, powered by a Lingenfelter Performance 7.0-liter LS7 engine with Pennzoil Synthetics and an automatic transmission. The completely custom build has a 2013 Corvette driveline, 6-piston BAER brakes, a customized lower air dam and dual-mode exhaust. Custom body modifications include widebody clinched flares and a SEMA Garage custom 3D-printed rear spoiler. The Volvo is finished in BASF B67 Austin Yellow with powder-coated trim. Interior touches include RECARO front seats with Takata 5-point seat belts, a custom sound system, navigation, C6 power locks, power windows, C6 air conditioning, a visual carbon console, and a custom tartan headliner and trunk liner. The car rides on Forgeline GTD-5 monoblock wheels. Campaigned lightly in 2018, this custom Volvo took home "Most Beautiful" non-domestic honors at the LS Fest and was Golden Ticket Winner at the OUSCI SEMA Show. **100% OF HAMMER PRICE TO BENEFIT SEMA MEMORIAL SCHOLARSHIP FUND** **WILL BE SOLD AT APPROXIMATELY 7:30 P.M. MST ON FRIDAY, JANUARY 17, 2020**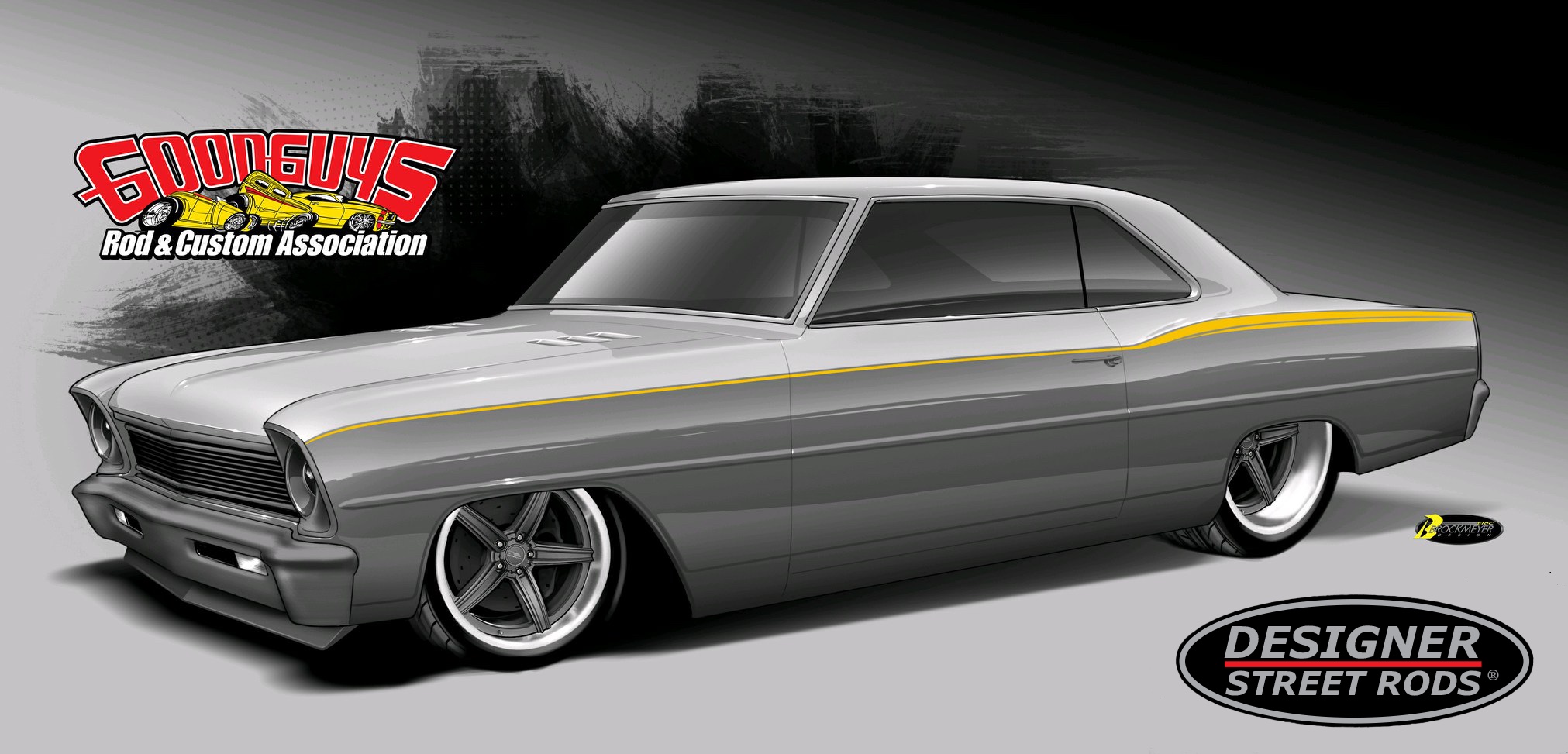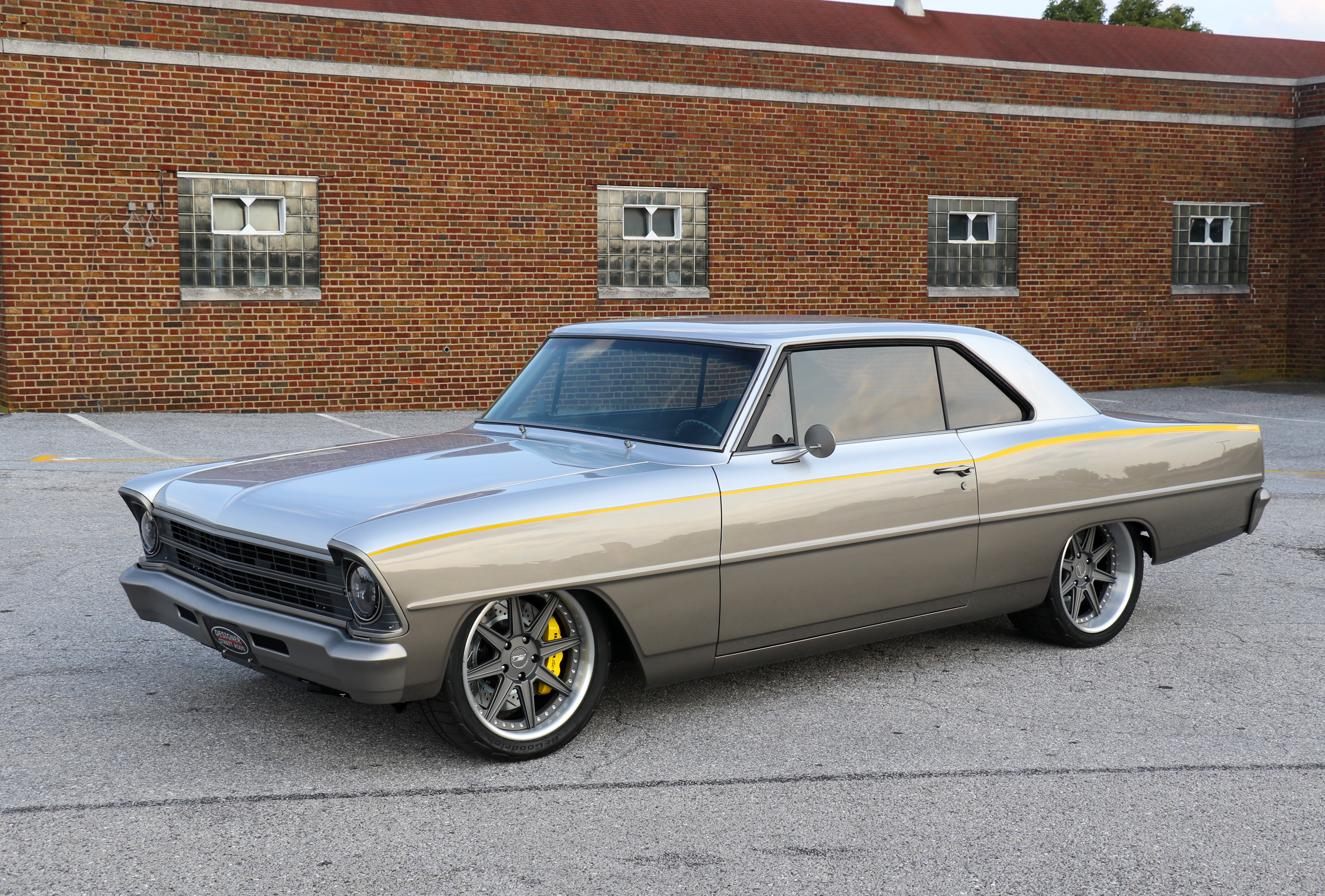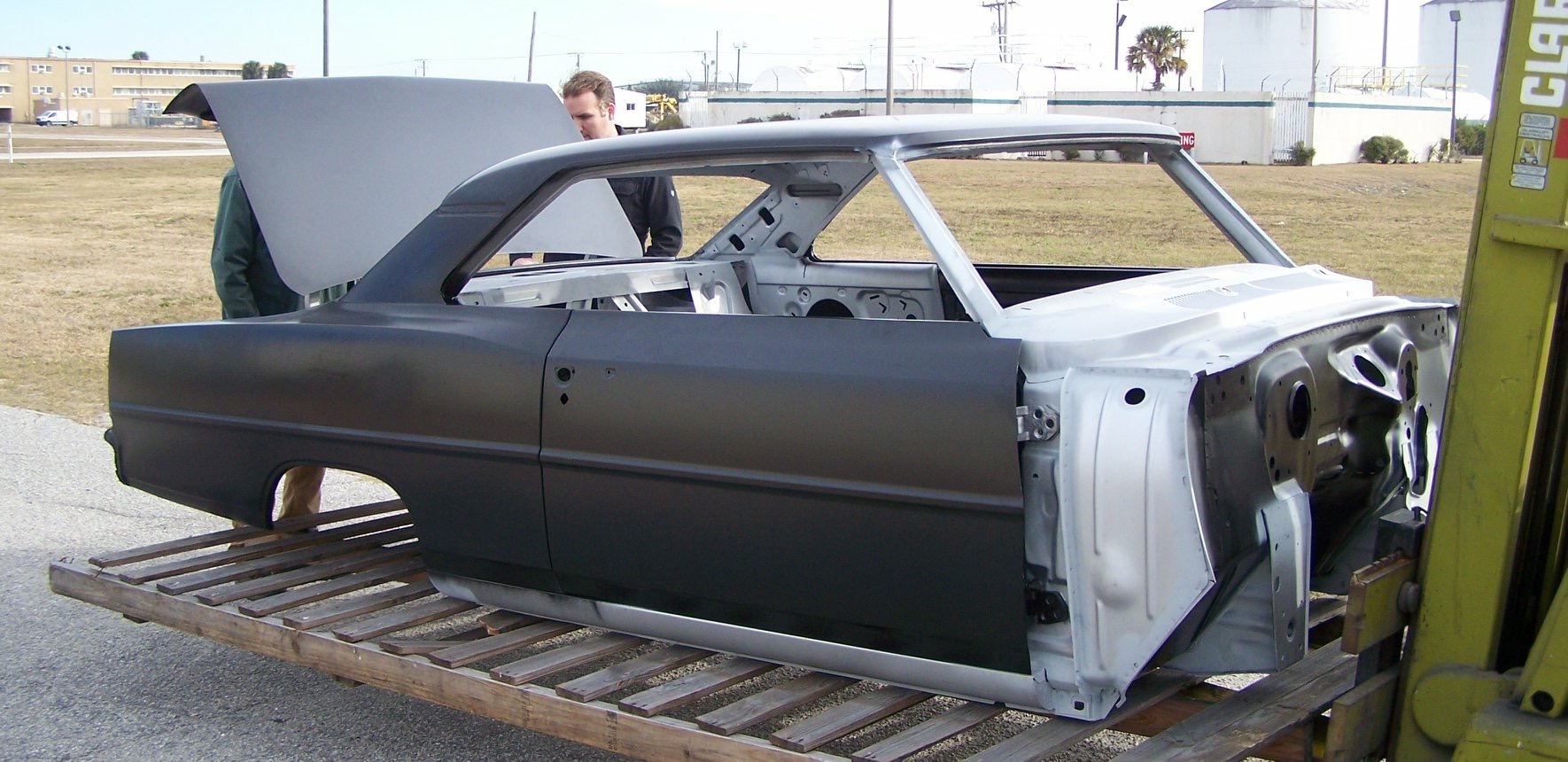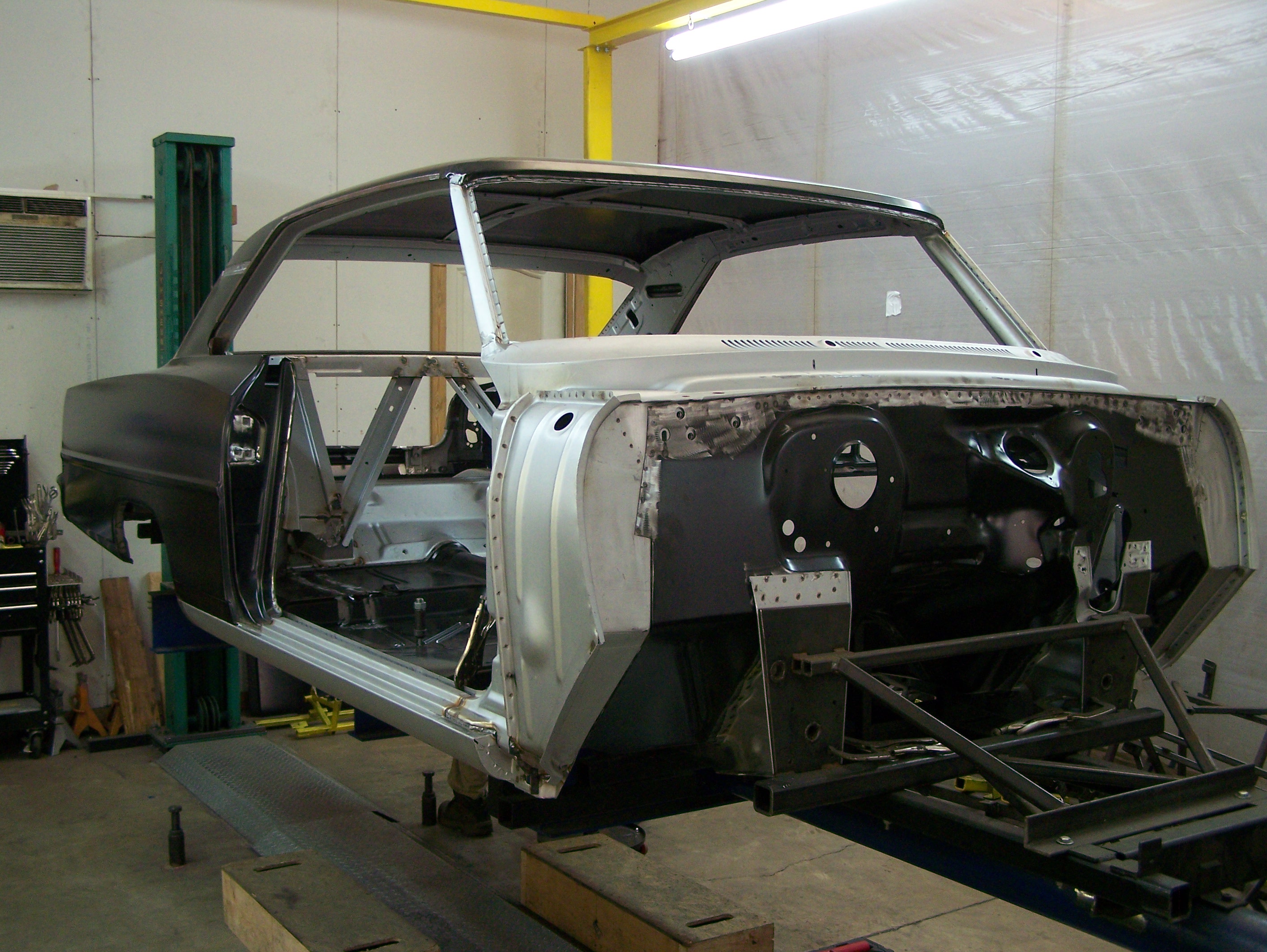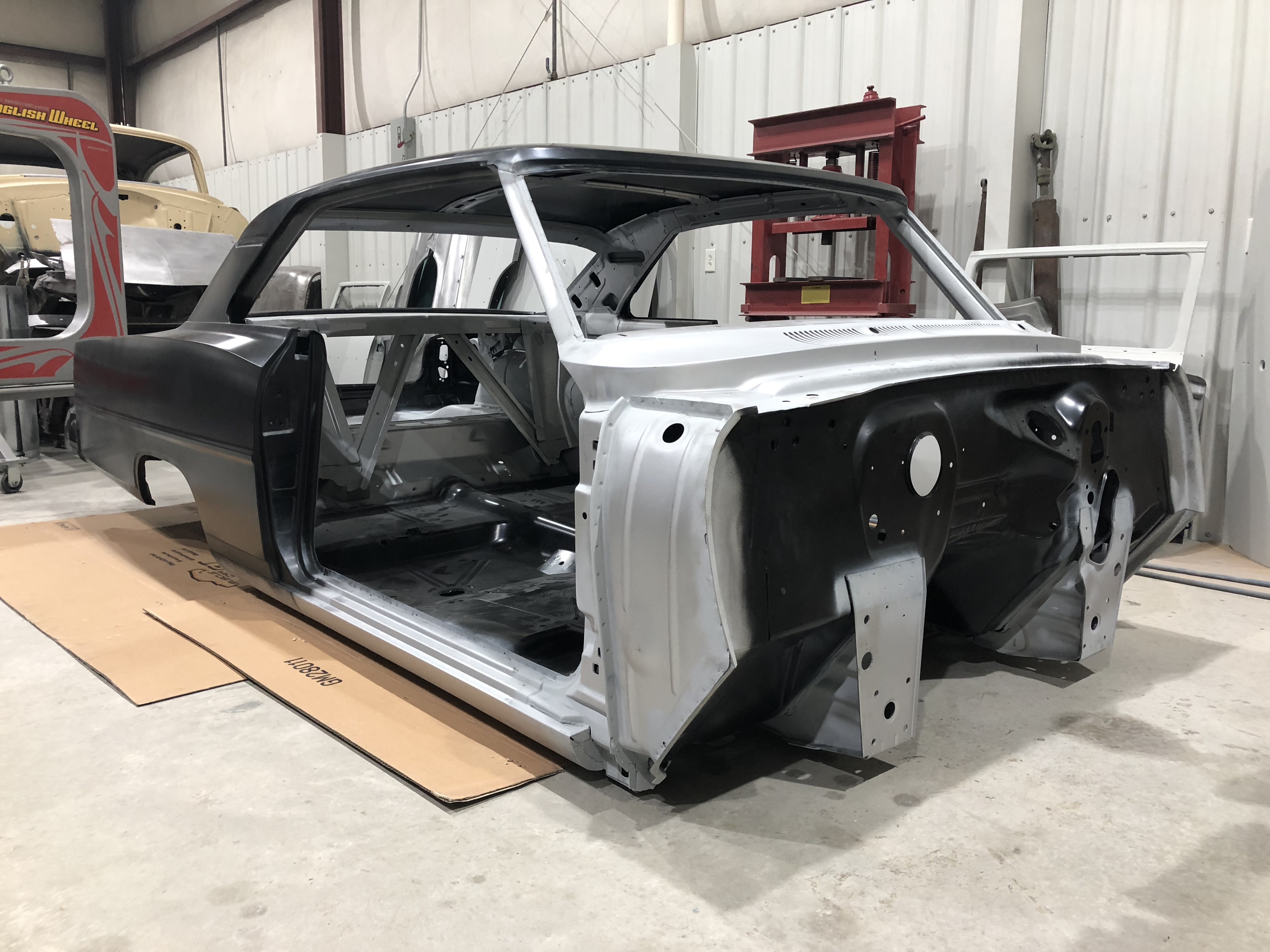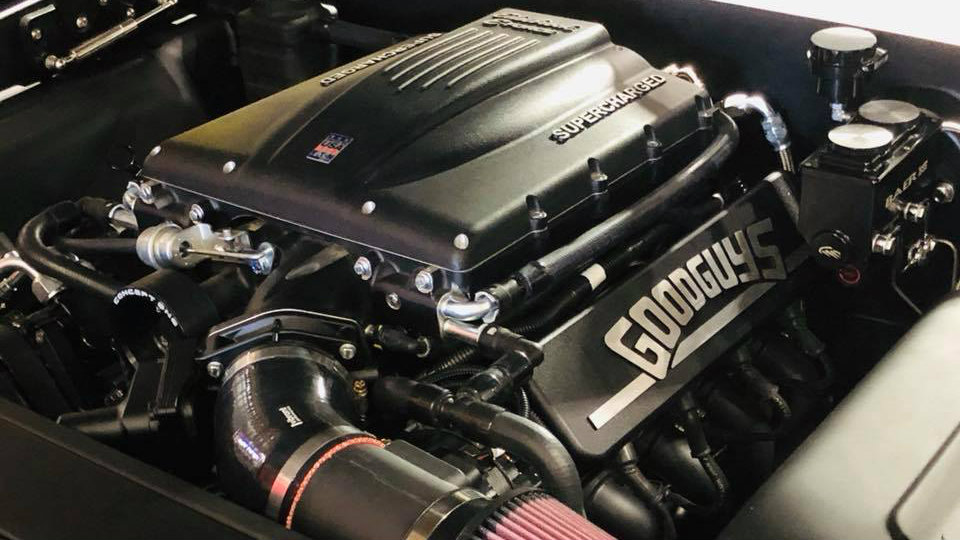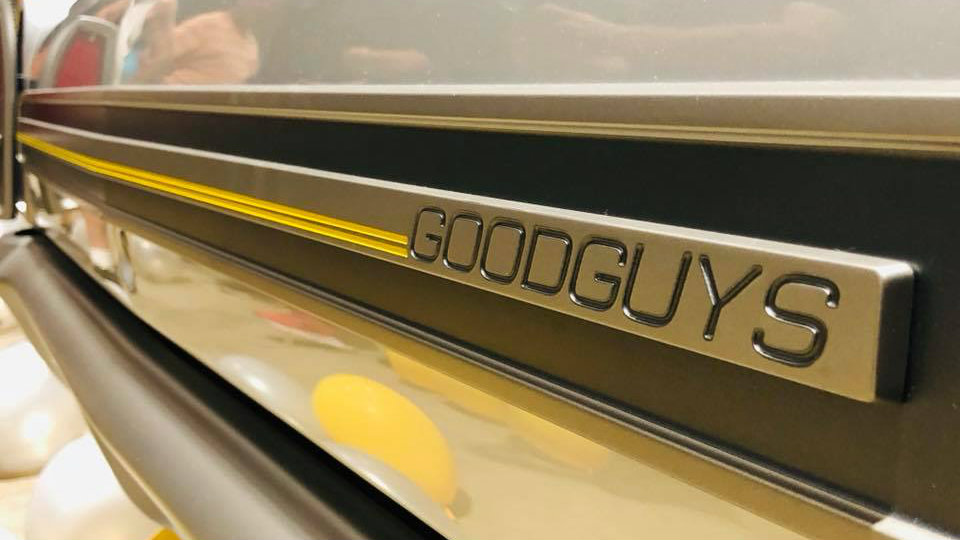 Built by Designer Street Rods
Location: Good-Guys Booth #22975 (Central Hall)
This particular '67 Nova departs from the common project car approach of taking an existing body, restoring it, and then completing the build with great aftermarket parts. With the growing popularity of '66-'67 Novas, finding a straight rust-free original is getting harder and more expensive, so Goodguys and Designer Street Rods employed an all-new-steel reproduction coupe body from Real Deal Steel. Beginning with a new body can cut months of work off a project compared to starting with a decades-old car and all of the accumulated wear, tear, and rust. Like all Real Deal Steel bodies, the giveaway Nova was constructed on a proprietary assembly station that uses a collection of carefully designed fixtures to guarantee that a completed body matches original factory specifications. All structural and skin assembly utilizes water-cooled 220V resistance spot welders – the same technology used in much-larger automotive assembly plants. When completed, the body was hauled to north Georgia for the Designer Street Rods crew to begin working its magic, guided by an Eric Brockmeyer concept illustration. The Designer team test fitted the front and rear suspension packages from Detroit Speed to see what modifications would be needed for a stock body to accept the aftermarket driveline components. As is the case with most complex projects, even a new body must be altered to accommodate modern engines and transmissions. The firewall and stock floor pan were altered to clear the Edelbrock supercharged 416c.i. LS3 engine that pumps out 720 horsepower. Designer Street Rods' Rodney Beasley said the stock floor and driveshaft tunnel needed to be raised nearly an inch to clear the Tremec six-speed transmission and Inland Empire driveshaft. Because of the Nova's unibody construction, the Designer Street Rods team built custom rails to connect the Detroit Speed front and rear subframes. This improves the car's rigidity and its ability to handle the powerful modern powertrain. Since a new Vintage Air system will eliminate the need for original-style kick panel fresh air vents, the intake grille openings on the top of the cowl were eliminated, thanks to a Ground Up cowl panel.
This Chevrolet C10 truck is sitting on AirRide Chassis, running an Air Lift 3H/3P Air Management system featuring the FLO AirRide Mfg. air compressor and tank. A Chevrolet 5.7L all aluminum LS engine drives power to a 4L60E transmission which turns the 3:73 gears in the locker equipped rear end. Chris Stafford designed and customer built project and worked with Mo's Paint and Body in Bogalusa, LA on the exterior to apply the BASF R-M paint base and clear coat products. The interior has a custom upholstered seat from Snowden Custom Seats and the rest of the interior was painted to match the leather with R-M paint over the QuietRide AcoustiShield Thermal Acoustic Insulation products.
This Ford F-150 Ford Truck is a "Raptor" conversion built around the "Overlander" theme to display a new solar panel charging system. It features SPD down pipes, a Magnaflow exhaust and Digipower solar and dual battery system. The Bare Speed Suspension features a Rough Country 4-inch lift, Bilstien shocks, Hellwig sway bars, Rebel Racing offroad wheels and 35" General Tires. The body mods include n Air Design body kit, black painted roof and carbon fiber hood scoop and a Humidor in the Glove box. The color is " Velocity Blue." On top are a Yakima Rack and Tent and Gerber Gear back country equipment.
This 1956 Chevrolet Corvette was built by Downtown Autobody in Shawnee, OK and features a 525 horsepower LS-3 engine built by R&P Machine Shop features Roto Fab engine covers. It sits on a custom Phat Phabz chassis and air suspension managed by AirLift Performance. The brakes are Wilwood and power is sourced from XS Batteries. The Corvette rolls on 18" US Mag wheels with custom redline Nitto tires. The interior features QuietRide AcoustiShield Thermal Acoustic insulation and firewall insulator under the Tandy custom Italian Leather seats and accents around an Ididit column and Sparc Industries steering wheel. Classic Instruments custom gauges and a Memphis Audio sound system complete the dashboard. Exclusive Touch Detail did the paint correction and ceramic coating with the Axalta paint. Special thanks to Action Classics for all their help with the build.
Xtreme Mudder Wheels (a subsidiary of USA Wheel & Tire Outlet Inc) is proud to partner with Cris Payne/Truck Guru Design & Marketing, in building the 2019 F-350 SRW for Joey Kahn which will be featured by Xtreme Mudder at the 2019 SEMA Show in the Cris "Truck Guru" Payne display area.
This 2003 Chevrolet Avalanche, AKA, Viper Snow, was built by Andy Cook and features a complete 2003-05 Silverado SS front clip conversion with 600K lighting. The body sits on a completely hand built chassis that produces a 3" stock floor body drop by Jared Hawkins of PoorBoy Designs in Mount Vernon, Il. and has been sanded and coated with the KBS 3-Srp Satin Black. PPG Vibrance based "Jack Frost Pearl" and Vibrance Clear complete the exterior finish. Union City Glass fabricated the new windows.
The motor is a 5.3 V8 with an LS-6 intake that has been Hydrodipped and Cerakoted to match by Mike Taylor at Central Illinois Hydrographix. Brakes and exhaust are coated "Chevy Grey" with KBS products and the exhaust manifolds are coated with KBS Aluminum. Brakes and exhaust are coated "Chevy Grey" with KBS products and the exhaust manifolds are coated with KBS Aluminum. The truck rolls on 24" Giovanna Gianelle wheels with 295/30/24 tires from WC Motoring, Las Vegas, Nv.
The interior has been completely redesigned with Charcoal Leather and Weather Proof Viper Snow Camo inserts with matching suede headliner to complement the door panels. QuietRide AcoustiShield Thermal Acoustic was installed throughout the interior to support an Alpine Electronics in-dash media center which pushes sound to the PowerBassUSA Full Custom Audio System which features four 10"sub-woofers, driven by four PowerBass Digital amplifiers to fully custom mounted, hand-made door speaker enclosures for the PowerBass mids and highs. The sub-boxes were designed by Erick Karmenzind of Peoria, Il. Andy completed the install of the amp rack mounting and wiring.
Starting with a 2013 Challenger R/T Duane Garett and 3rd Strike Performance created a fully licensed and nationally registered Mr. Norm Cuda conversion with extreme dimensions, wide-body kit options to widen the front and rear end fenders and added side skirts. A TruFiber Cuda Hood covers the stock 5.7 V-8 engine which has been modified with an AirAid Intake system and Diablo Sport Programmer. Exhaust goes through a custom Flowmaster Performance Eshaust system. The car now sits on an Eibach lowered suspension and rides on factory reproduction custom airbrushed wheels. The exterior is finished in Tamco "Rock It Red Pearl" and gloss black . The interior has been updated with QuietRide AcoustiShield Thermal Acoustic Insulation to reduce passenger cabin harmonics and bring out the best of the Kenwood Stereo and subwoofer sound system and a Katzkin Leather Interior. Look for this car on the 2019 Hot Rod Power Tour.