What is AcoustiHood?
QuietRIDE is proud to introduce AcoustiHOOD, the next solution in our "holistic" approach to controlling automotive NVH. Introduced at SEMA 2013, this new product is a two-part underhood cover and insulation kit that not only dresses up the engine, but also stops the vibration and noise created by large, minimally supported hood panels--noise that is air-borne and carried into the passenger cabin.
Each AcoustiHOOD product is patterned and modeled on an OEM hood, so that it is year, make and model specific and fits exactly as it should. The HeatShield Thermal Acoustic insulation panels are designed to fit between the structural ribs of the hood to stop vibration. The high-temperature ABS panel covers and protects the insulation. It also conceals the underhood rib structure and the blemishes that come as a result of exterior body work.
While the hoods on older vehicles of the 1950s and 60s are much like kettle drums, the hoods of newer vehicles are much more structurally supported. Depending on the size, shape and structural integrity of the hood, AcoustiHOOD will reduce the transfer of air-born noise as much as three to five decibels on average. While that may not sound like a lot, it really works out to about a 25 percent reduction in automotive generated noise that buffets the windshield, dramatically impacting the comfort of the passenger cabin.
What's Included in an AcoustiHood kit:
AcoustiHood Under Hood Covers include heatshield barrier insulation panels to protect painted surfaces and to reduce the vibration and noise produced by these large body panels from entering the passenger cabin. Under Hood kits are year, make, and model specific, pre-cut and ready to install, and come with a hardware kit and illustrated installation instructions. Where possible, the manufacture uses factory hood insulation mounting holes. Some hoods will require additional mounting holes. Instructions for drilling mounting holes and a "drill stop sleeve" are included in each kit.
AcoustiHOOD products are available in three variations:
Smooth UnderHood Cover
Vehicle branded UnderHood Cover
Custom Logo UnderHood Cover
Smooth UnderHood Cover
Designed for customers who want to retain an OEM restoration look to their engine compartment. These are designed to replace the factory under hood cover that comes with your vehicle. They are made with tough, high temperature ABS material that protects your hood from your engines heat. All our hood covers are pre-cut and ready to install right out of the box.
HeatShield Insulation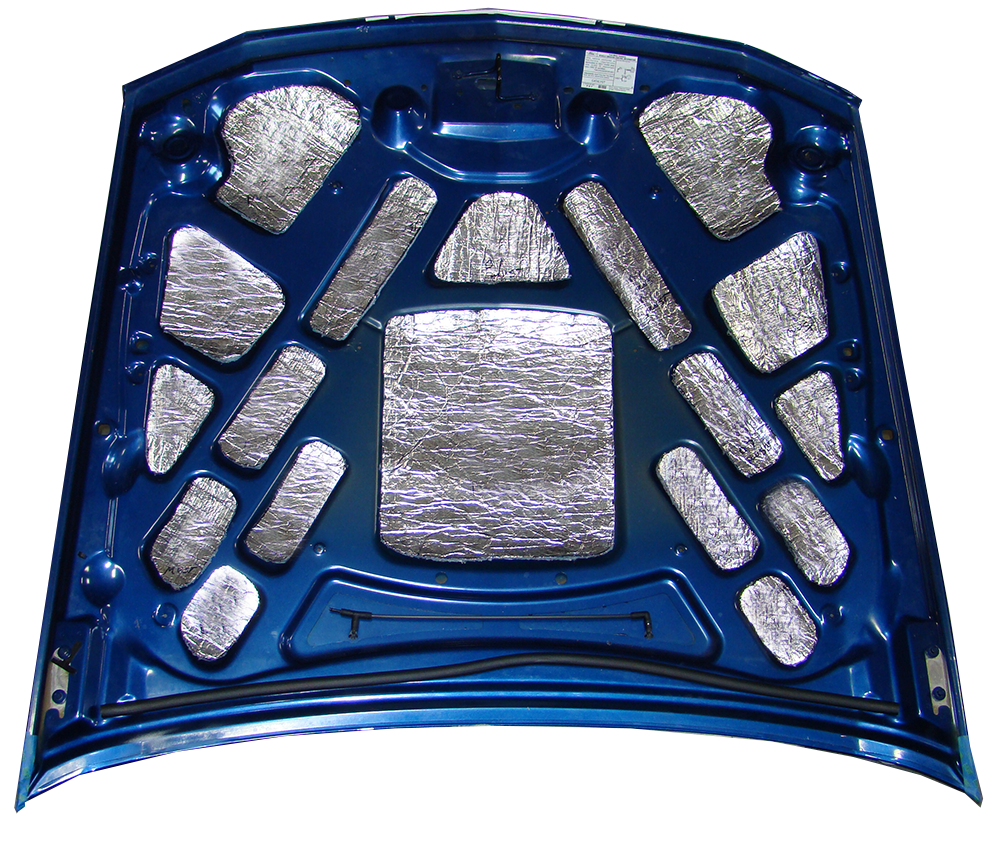 Smooth ABS Hood Cover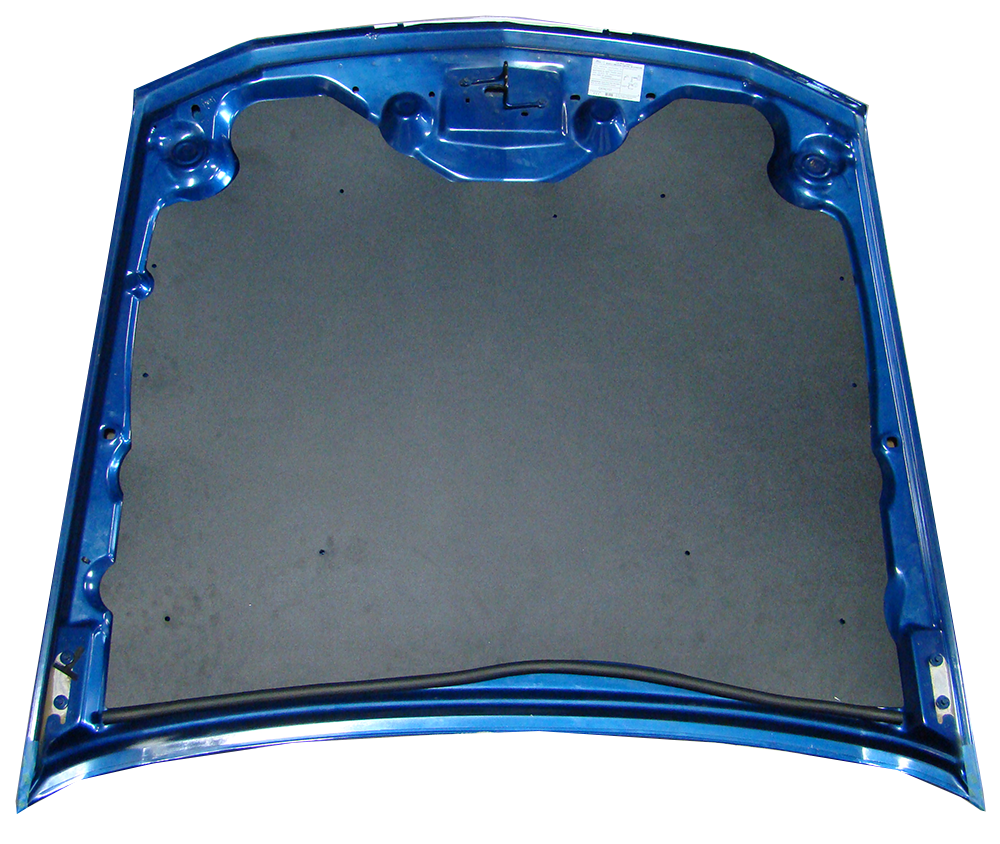 Vehicle Branded UnderHood Cover
General Motors and MOPAR Brand Molded Hood Covers products are designed for the "Restomod" customer who wants to add a little "pizazz" to the engine compartment with a vehicle brand name, model or engine type molded into the cover. QuietRIDE is officially licensed by General Motors and MOPAR/Chrysler LLC to use their massive history of vehicle brand names and logos. Our catalogs are always growing so take a look and see what we have so far. If there is a logo for your vehicle that you find missing in our catalogs, call and let us know.
GM Branded Hood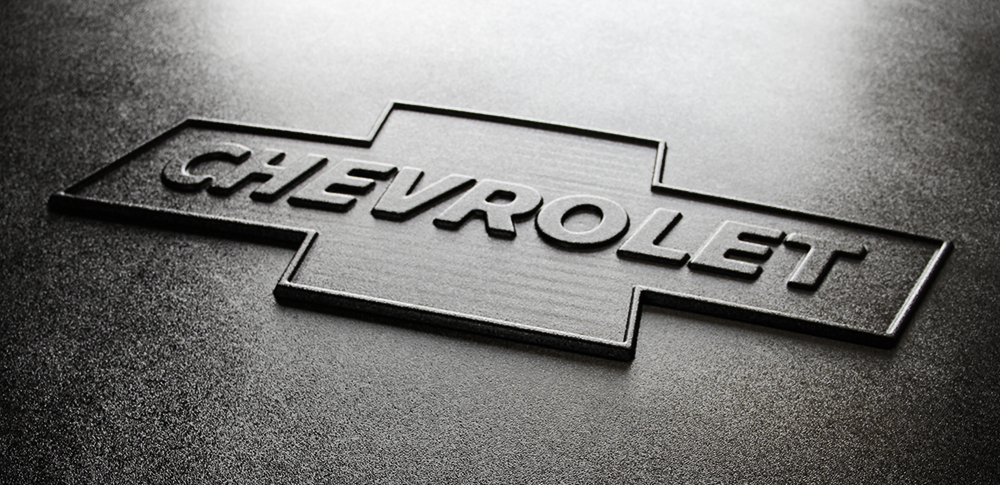 MOPAR Branded Hood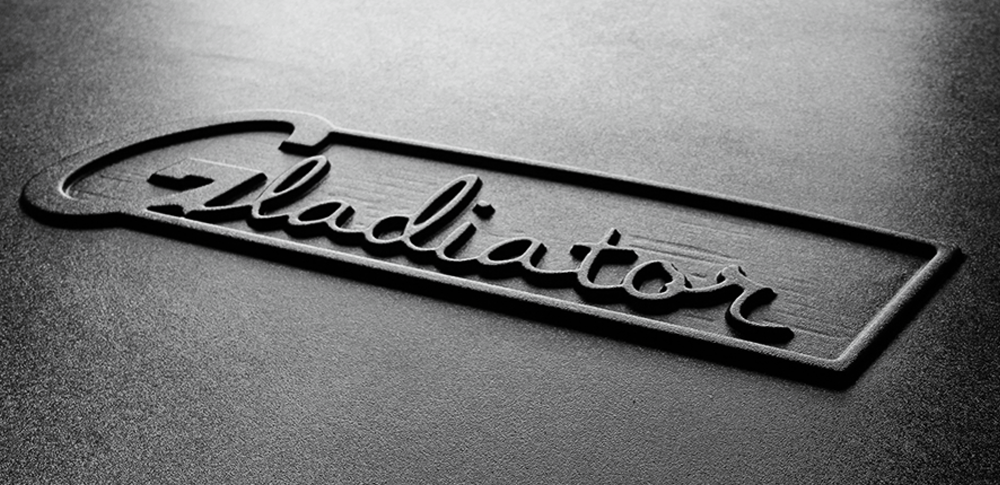 Custom Logo UnderHood Cover
Customized Molded Hood Covers are available for customers building a show vehicle and want to "personalize" the underhood cover with their own special graphics or logo molded in to the hood cover. We updated the hood of the QuietRIDE AcoustiTRUCK with an image of the vehicle molded into the cover to demonstrate how a custom Underhood Cover would look.
Requirements:
Custom Underhood Graphics are designed to work with factory stock hoods.

Select a make and model vehicle from one of our Underhood Catalogs.
E-Mail your artwork in Vector or JPG file format.
E-Mail the Type Font if you are using a special lettering style.
Allow six weeks for processing.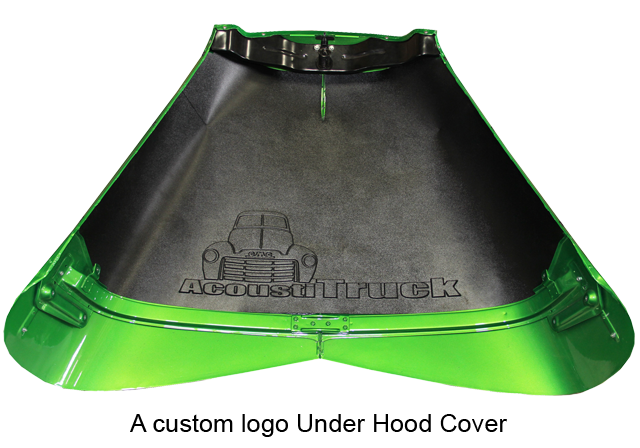 Catalogs
Order Online