While that vintage car or truck is far more beautiful than your luxury sport sedan, the creature comforts are far less sophisticated than the standards to which we have grown accustomed, making the ride less pleasurable.
Historical Perspective
Historically, automobile manufacturers have paid little attention to interior acoustics and environmental conditions in the passenger cabin. The "insulation" and sound dampening material originally installed in vehicles was marginally effective in its day and by now, has greatly deteriorated. Even in today's new cars, interior acoustics are a low priority unless you purchase a vehicle in the luxury car level.
Here are typical complaints restorers and custom car builders encounter when it comes to sound and heat management:

Engine, transmission, drive shaft, tire and exhaust noise invade the floor.
Heat from the sun radiates into the passenger cabin.
Air conditioning system does not effectively reduce temperatures.
Noise from the trunk compartment and package shelf invades the passenger cabin.
Heat and noise comes through the firewall.
Noise invades an automobile passenger cabin through one of two paths:
Whether your pride and joy is a Model A Ford, Tri-Five Chevrolet Coupe, a 2014 Mustang Fastback or a 1967 Firebird, most cars come from the factory with virtually no insulation. People love their cars and trucks, but the vibration and noise that resonates throughout the passenger cabin can become "numbing" on an extended trip for both the driver and passengers. Add in the radiant heat from the engine, drive train, exhaust system, the roadway and the sun and the passenger cabin can be unbearable.
The physics of sound and vibration inside a vehicle isn't that hard to understand. The two main components of passenger cabin noise are "airborne noise" and "vehicle-structure noise" (vibration).
Air-borne noise is generated from wheel vibration on the road surface, wind shear, engine mechanics, transmission harmonics or exhaust system harmonics that make their way through vehicle body panel joints in the passenger cabin. Sealing air gaps, installing damper pads and strips to stop body panel vibration and insulating the interior of the vehicle with a a thermal acoustic type automotive barrier, is much like adding a double pane windows to your home—temperatures are moderated and there is less noise transfer—things gets quieter.

Structure-borne noise is produced by direct vibration of unsupported, thin metal automotive body panels due to engine, transmission, or wheel movement. Both types of noise can be lessened with aftermarket sound-dampening materials.

It isn't until a consumer spends upwards of $60,000 to $80,000 on a high end luxury vehicle that they get the level of sound dampening that the aftermarket products can easily provide to consumer/installers.
QuietRide NVH Apex Theory
Cars and trucks absorb noise, vibration and heat (NVH) from multiple directions, which "Apex" in the passenger cabin at ear level.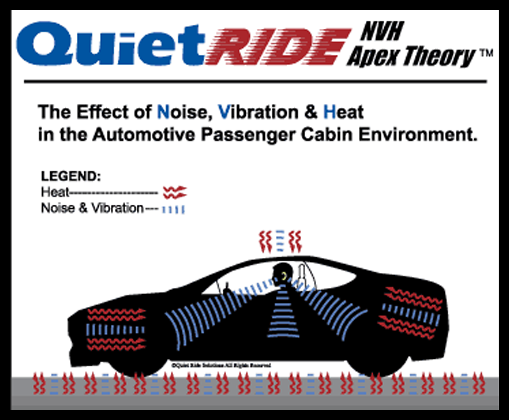 Engine NVH travels from the front of the vehicle through the firewall and cowl.
Transmission and drive line noise, wheel well and trunk panel NVH travels forward through the seat divider and package tray panels.
Performance exhaust systems produce noise and heat which penetrate the floor pans.
Direct heat from the sun penetrates the roof of the vehicle
Road way heat, which often exceeds 140 degrees, travels through the floor pans of the vehicle.
All of these influences meet in the middle of the vehicle where the passengers sit. A normal conversation builds into a "shouting match" between the driver and passengers to overcome the "harmonic drone" of the vehicle mechanics. When you add the noise produced by the sound system, and the air rushing through the vents of the air conditioning system, the whole driving experience is more work and less pleasure contributing to driver fatigue. Reducing the influence of automotive noise, vibration and and heat inside the passenger cabin has as much to do with driver safety as it does with making the ride more comfortable.
A lot of cars come to the Quiet Ride Solutions shop with passenger cabin decibel readings of 100 db and above. We can easily reduce those numbers by 12 to 17 dbs." While that may not sound like much mathematically, sound reduction is based on an algorithmic scale. An easy way to understand that sort of sound is to think of 100 db as being the sound that a chop saw emits as it rips through a two by four. A reduction of only 10 db is a 50 percent reduction in sound that the human ear can detect.
Decible Levels of Common Sounds


People love their tuned exhaust systems - at least for the first 20 minutes...then that aggressive sound becomes over-bearing, especially on an hour-long, daily commute. QuietRIDE can neutralize that noise in the passenger cabin and keep the exhaust noise outside the car. Today's motor vehicle manufacturers, in an effort to reduce vehicle weights in the name of fuel efficiency and price competitiveness, have eliminated most of what little insulation was once put into cars and trucks at the factory. The Quiet Ride technical staff have literally stripped more than 500 cars and trucks in the last ten years to make patterns for our pre-cut, ready to install AcoustiShield insulation kits—vehicles that are now 40 to 50 years old, as well as new vehicles. What we have found is that manufactures no longer put any form of sound dampening or insulation in trunk panels or on rear wheel wells. In many of the newer cars, the rear seat folds down and package trays and seat divider panels have been eliminated, to make a larger passenger cabin.
To speed the vehicle assembly process, manufacturers have combined their insulation materials with the finished interior panels. Insulation is glued to the back of carpets, door panels, plastic body panel covers and molded headliner covers. The rear seat cushion, if there is one, has become the sound barrier between the trunk area and the passenger cabin. Even the old-fashioned multi-layered firewall insulator panel, the first line of defense against engine noise and heat, has been reduced to a thin piece of "shoddy"—a jute-like material, glued to the firewall bulkhead panel. The pony cars of the 1960s have 75 percent more insulation than do their newer namesakes.
What It's Made Of
Current Automotive Acoustic Technology incorporates sound control systems and acoustic materials throughout the vehicle in small patches—from the engine bay to the trunk compartment. The purpose of these materials is to dampen, insulate and absorb the heat and cold, as well as noise, before it affects the passenger cabin. In a typical luxury sedan, there is approximately 100 pounds of sound and heat control material incorporated into the interior bodywork of the vehicle. Its primary mission is to protect the passenger cabin from external noise. The ultimate goal is to create a "sound proof box."

Borrowing concepts from state-of-the-art automotive acoustical research and technology, there are things you can do, and materials you can install during the restoration or custom car building process, to soften the ride, deaden the noise, isolate the mechanical sources of heat, and control the external environment.
Here is a brief description of the materials used in acoustic management:
Damping is the reduction of vibration and noise generated by resonant vibration in areas like body panels, door panels, floor pans and roof panels. Damping material should be at least one-half the thickness of the metal or composite material to which it is being applied and cover approximately a 25 to 30 percent of the surface area. The most effective material used in damping is a self-adhesive rubberized asphalt material that is acoustically "dead" because of its dense mass and weight—about two pounds per square foot. The best automotive dampers are water repellent.

Absorbers are materials that do not block sound, but rather, "soak up" sound and prevent sound waves from reflecting. Absorbers are made up of dense fiberous materials with open pores. Open cell foams, shoddy, fiberglass and fibertech are examples of sound absorbing materials. Thick materials absorb low to high frequencies: thin materials mainly absorb medium and high frequencies.

Reflective Barriers have come of age as the result of the aero space industry. Reflecting heat away from critical equipment as well as passengers is the primary objective of the reflective barrier which usually consists of highly reflective material bonded to a thin foam or "bubble pack" material.

Absorber-Reflective Barrier Combinations have been developed in the last decade in the form of a shielding material that serves multiple purposes. Insulation products that dampen, absorb and reflect heat consist of aluminum sheeting bonded to a fiberous padding with fiberglass mesh reinforcement to achieve high strength. These materials are highly reflectivity of radiant heat and achieve maximum sound deadening. High quality combination shields are thin in design but produce high "R Factor" ratings and high acoustical NCR ratings.

What Acoustic Controls Will Not Do
Before any acoustic treatment can have a major impact on the passenger environment, the vehicle's body panels must be aligned and sealed and suspension mechanics must be in tip-top-shape. A noise leak is a hole (or gap between body panels) which offers little or no resistance to the flow of air-borne noise from entering the passenger cabin. Air gaps can be found in such places as:
Excessive holes in the body structure.
Poor or incomplete welds where body and floor panels come together.
Inadequate sealing of metal joints such as mechanical access panels.
Misalignment of doors, vent panels, the hood and trunk.
Poor fitting grommets and boots for bringing cables, pedals, steering column and shift levers into the vehicle's interior.
Inadequate sealing of weather strips around doors, windows and the hood and truck.
Pre-Cut Acoustishield Kits vs. Universal Acoustishield Kits
There are two approaches to insulating a vehicle:
Universal Materials
Whether it be rolls of insulation, sheets or squares of damper material you will be required to design, layout, cut and install these products over a period of many days. You will have to measure out the square footage of the interior panels of your vehicle, and plan to purchase 20 to 25 percent more material than your calculations to allow for fitting and waste. You will have to invest in a good pair of scissors (gloves and a big box of bandaids) or an electric cutter.
AcoustiShield Pre-Cut and Ready to Install Kits.
QuietRIDE has created more that 1,300 AcoustiShield Thermal Acoustic Insulation Kits for popular cars and trucks which treat the specific noise, heat and vibration issues commonly found throughout a motor vehicle. Each of these kits has been developed as part of a menu of options that allow you to pick and choose the solutions that will resolve the problems you face in your restoration or custom car project. Each of our kits is pre-cut and ready to install and is modeled on an OEM (stock) vehicle. Insulation panels are easily modified to fit custom applications. Each kit comes with everything you will need to complete the installation, Dynamat Xtreme Damper pads, HeatShield barrier insulation panels, spray adhesive, seam tape and an illustrated installation sheet. As we like to say—Everything in one box to do the job right!

Acoustishield kits are packaged to insulate the following areas of the vehicle:
Roof Insulation Kit
Front and Rear Floor Insulation Kit
Upper and Lower Cowl Insulation Kit
Body Panel Insulation kit (includes package tray, seat divider, rear wheel wells, rear body and fender panels)
Trunk Floor Insulation Kit
Door Damper and Weather Barrier Kit
QuietRIDE also manufactures Universal AcoustiShield Insulation Kits for those vehicles which we do not currently have pre-cut kit patterns.
Each kit comes with step–by–step instructions and diagrams to make installation easy. A bare metal car or truck body, requires about two hours of installation time for each kit, using simple hand tools. If you need to remove upholstery or interior panels, more time will be required. Some trimming may be required for precise fitting. All of the materials included in our products meet Federal DOT (Department Of Transportation) safety standards.
Benefits

What you can achieve with a properly insulated vehicle?
Quiet riding comfort in the form of reduced interior decibel levels, and virtually no exterior heat issues. Quiet Ride Solutions regularly performs pre and post tests on a number of vehicle each year as part of our continuing evaluation of products and techniques. The results we get from these tests are surprisingly consistent from vehicle–to–vehicle. We have posted many of these tests on the Quiet Ride YOUTUBE channel.
Here is an example
This show-winning vehicle came from the Southeast part of the country and had undergone a full body restoration on a completely updated chassis and drive train, including a "GM 350" crate motor, a 700 "R" transmission and a high performance exhaust system. The body, interior, and all the mechanics, were first quality. Our initial test drive told us the vehicle had major noise issues at all speeds--from idle to 70 mph. We dismantled the interior, except for the new headliner and installed our off–the–shelf Chevelle Acoustishield Insulation Kit. Then, we reinstalled the interior over a new carpet. Our post test drive gave an immediate 13 db reduction in interior noise levels throughout the entire range of operation. When the customer installs a new headliner, he will also install the roof insulation kit, the interior noise level will be reduced even more.
Secondary Benefits to Automotive Insulation
Along with the obvious benefits of automotive insulation, our customers report that their automative air conditioning is greatly improved because the cool air produced by HVAC systems is captured and maintained inside the vehicle. Customers tell us that they operate the air conditioner controls at lower levels after installing AcoustiShield because the passenger cabin gets too cold!
Audio systems perform better according to other customers. When the vehicle body is completely insulated, sound wave transfer is virtually eliminated and audio system performance and clarity is greatly improved. Our customers report that they can reduce the speaker volume by as much as 50 percent with the installation of AcoustiShield because exterior noise is no longer a major influencing factory in the passenger cabin.