Ford Firewall insulators are made for the make, model and year of the car or truck specified. The first firewall insulator that Ford installed in a production car was in 1932 and the company selected an oil impregnated cardboard with a unique "chicken track" image embossed on the cover surface.
Ford Chicken Track—A Little Early History Tidbit.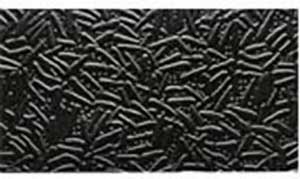 While it is generally assumed that Ford invented the "chicken track" texture material on their firewall insulators and other interior panels, it was actually Dodge which used this texture on some of their firewall insulators as early as 1928—four years before Ford started manufacturing firewall insulator pads. Ford did use "chicken track" in the production of their Model A cowl side panel. However, the Model A cars and trucks never had a firewall insulator."Chicken Track" was used on some Chevrolet Military truck headliners and firewalls in the early 1940s—probably as a result of the combined efforts among the automotive manufacturers to adhere to uniform manufacturing standards during the war effort.
Coxford ABS Chicken Track
We use an ABS plastic material with the original "Chicken Track" grain embossed into the face of the cover. There is no finer quality. The ABS plastic material is easily formed with heat and duplicates the original look and texture exactly for cars built between 1932 and 1948. ABS plastic is very tough, yet flexible, and does not show scratches or scuffs.
Firewalls for the Ford Model A
Because of the heat and noise problems common to the 1928 through 1931 Ford Model A, three firewall insulators are available for these cars and trucks. These aftermarket firewall insulators greatly reduce the noise and heat entering the passenger cabin through the bare steel firewall from the engine compartment.
Model A Cowls and Other Panels
An exact duplicate of the original Ford Model A chicken track cowl panels in the original brown with the welting sewn along the door edge is available. We also make the Model A "Jump Seat" cushion bottom panels in leather for 1929-29 and in chicken track for 1930 and 31.
Chicken Track and Leather in Ford Trucks
Ford used chicken track textured firewall insulators in their trucks from 1932 through 1948. However, the use of the chicken track texture on other interior upholstery panels ended with the production run of 1936 trucks. Beginning in 1937, truck interior panels were manufactured with a leather texture material.
Authenticity
All of our patterns are based on out-of-the-car originals that someone has sent to us for duplication. Not a single car owner has ever reported losing points in a concours judging competition as a result of installing one of our firewall insulators. We go to exacting lengths to ensure that each of our products will look and fit just like the original.