Not all automotive insulation products are equal...

some just cost more!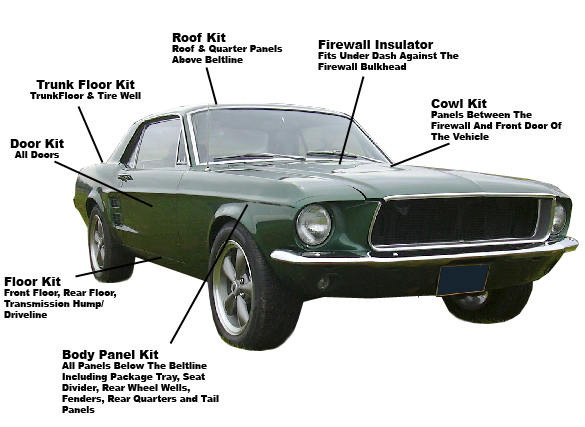 What does it take to completely sound dampen
and insulate a 1967-68 Mustang to today's luxury car standard?

Using state-of-the-art thermal acoustic technology, the minimum amount of material required is:
---11 SqFt of Sound Damper Material
---168 SqFt Barrier Insulation Material

A wide variety of materials is available to restorers and custom car builders to sound dampen and insulate the passenger cabin of cars and trucks. Products range from the "bubble pack" insulation you can buy at the local building supply warehouse, to the materials you see installed on network television hot rod and performance car shows.

13 Automotive Insulation Products Analyzed


QuietRide Solutions makes AcoustiShield Thermal Acoustic Insulation kits for 1,100 plus popular antique, classic, streetrod and custom cars and trucks. For this analysis, the 1967-68 Mustang coupe was selected as the "test vehicle." We compared the amount of material in our Mustang AcoustiShield complete acoustic kit (MUST 6768-CAK) with equal amounts of sound dampening material and heat shield type barrier insulation material available from thirteen selected distributors to calculate a comparable cost.

The QRS Mustang AcoustiShield kit contains:

• 11 Sq Ft of Dynamat Xtreme damper material
• 168 Sq Ft of HeatShield barrier insulation.
• Spray Adhesive
• Illustrated instructions
• Seam Tape
• Damper Roller

Everything in one box to do the job right!

• Quality Materials
• Engineered to fit
• No tools required
• No wasted material
• Easy to install
• No blisters

AcoustiShield has the best "Value to Cost Product Ratio" compared to other automotive insulation materials on the market!




What makes the AcoustiShield product by Quiet Ride Solutions better than other products?


Easy Installation: All AcoustiShield insulation products are engineered for each vehicle--year, make and model specific--based on our our two-stage sound dampening and insulation system. Kits are pre-cut and ready to install right out of the box.

Proven Results: Every vehicle tested shows a 15 to 17 decible reduction in passenger cabin noise. (A 10 db reduction is 50 percent less noise.) Radiant and reflected heat is reduced by 25 degrees.

Be an Informed Consumer

You get only one opportunity to insulate your vehicle prior to upholstery. As a consumer, you need to read the "fine print," ask questions and evaluate what these products will do for your ride. The ultimate goal is to control passenger cabin "Noise, Vibration and Heat" (NVH).

Six answers to seek:

Noise: Will the product stop body panels from vibrating noise into the passenger cabin?

Vibration: Will the product stop the transfer of sound waves from bouncing off the walls of the passenger cabin?

Heat: Will the product stop radiated and reflected heat from entering the passenger cabin?

Installation: What is involved to install the insulation product in the vehicle?

Cost: How much material will be required and how much wasted material will be left?

Time: How much time (and skill) do you need to complete the installation process?
The Coolest Cars Have QuietRide Inside!™
Product Name
Distributor
Manufacturer
Damper Material
11 SqFt Minimum
Barrier Insulation
168 SqFt Minimum
Seam Tape
Spray Adhesive
Damper Roller
MFG
Advertised Cost
QuietRide Solutions
Pre-Cut, Ready To Install
Pre-Cut, Ready To Install
Included
$720 ($$$$$$$)
B-Quiet
Universal
Universal
Available
$$$$$$$$$$
CAE Cascade Audio Engineering
Universal
Universal
Available
$$$$$$$$
DEI Boom Mat
Universal
Universal
Available
$$$$$$$$$$$$$$$$
Dynamat Universal
Semi-Universal
Universal
Available
$$$$$$$$$$$$$$$$$$$
Dynamat Custom Cut-Mustang
Universal
Universal
Available
$$$$$$$$$$$$$$$$$$
FatMat Sound Control
Universal
Universal
Available
$$$$$$$$$$$$
HushMat-Universal
Semi-Universal
Universal
Available
$$$$$$$$$$$$$$$$$$$$$$$$$$$$$$$
Hushmat-Mustang
Universal
Universal
Available
$$$$$$$$$$$$$$$$$$$$$$$
Insulshield Technology
Universal
Universal
Available
$$$$$$$$$$$
Kool Mat
Universal
Universal
Available
$$$$$$$$$$$$$$$$$$$$$$$$$$$$
Lizard Skin Ceramic Insulation
Water Based Ceramic/Acrylic Barrier
$$$$$$$$$$$$$$$$$$$$
Quiet Car
Water Based Ceramic/Acrylic Barrier
$$$$$$$
Second Skin Audio
Semi-Universal
Universal
Available
$$$$$$$
Click on a link below to see a detailed comparison to any of our competitors:
QuietRide vs. B-Quiet
QuietRide vs. CAE (Cascade Audio Engineering)
QuietRide vs. DEI Boom Mat
QuietRide vs. Dynamat Universal
QuietRide vs. Dynamat Custom Cut Mustang
QuietRide vs. Fat Mat Sound Control
QuietRide vs. HushMat Mustang
QuietRide vs. HushMat Universal
QuietRide vs. Insulshield Technology
QuietRide vs. KoolMat
QuietRide vs. Lizard Skin
QuietRide vs. Quiet Car
QuietRide vs. Second Skin